Many people wish to experience the charms of Cordoba with all five senses, and with 5 stars: Mosque-Cathedral, the popular gastronomy, its landscapes, history and art of Cordoba… And there are luxury hotels in Cordoba for everyone to complete this experience.
There are several five-star hotel establishments that offer a personalised and exclusive service for their guests, and the province has a wide range of luxury establishments that are worthy of its 5-star category.
That's why, in this article, we'll tell you about the most exclusive accommodation in the province so that you can enjoy a peaceful stay and feel like you're in a special place for a few days. Among them, you will find rooms with incredible views, restaurants where you can enjoy the local gastronomy and spa areas that will allow you to relax your body and mind after an intense day of sightseeing.
Prepare yourself for an unforgettable trip to Cordoba!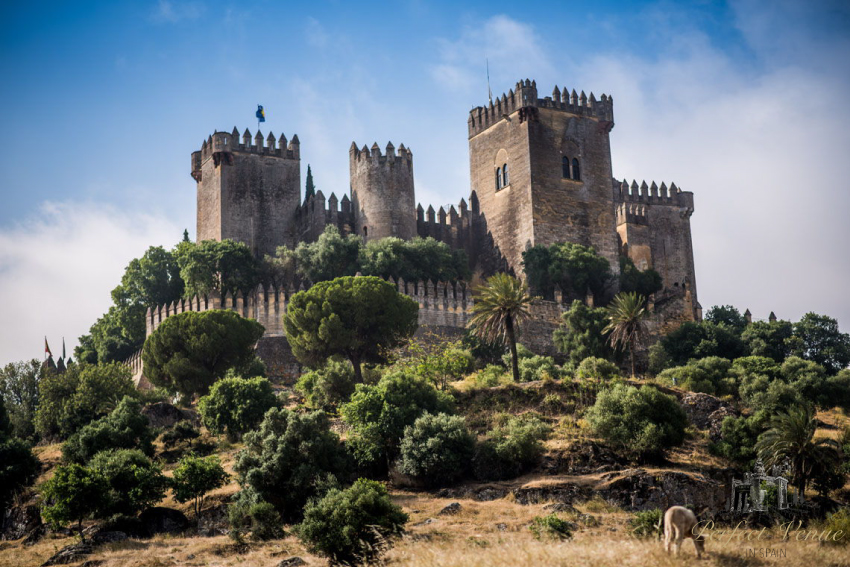 Hospes Palacio del Bailio
The Hospes Palacio del Bailio is a magnificent 5-star hotel located in a 16th-century palace in the heart of the ancient city of Cordoba.
The building has been restored and converted into an exquisite and elegant boutique hotel surrounded by beautiful gardens.
All the rooms offer a very original decor, a perfect fusion of old and new, wooden floors, original antique frescoes that combine with the leather textures and velvet headboards, as well as plenty of natural light, and the wonderful scent of flowers coming from the orange trees in the gardens.
The former library of the building become a Suite, it is decorated in golden tones and has large windows. There is a Grand Suite Loft on the top floor with panoramic views of the city of Cordoba.
The hotel also has a luxury spa called "Bodyna Spa", with Roman baths and different beauty and health treatments and the restaurant "Senzone", where you can enjoy a mix of Spanish and Moorish food. One of our favourite luxury hotels in Cordoba!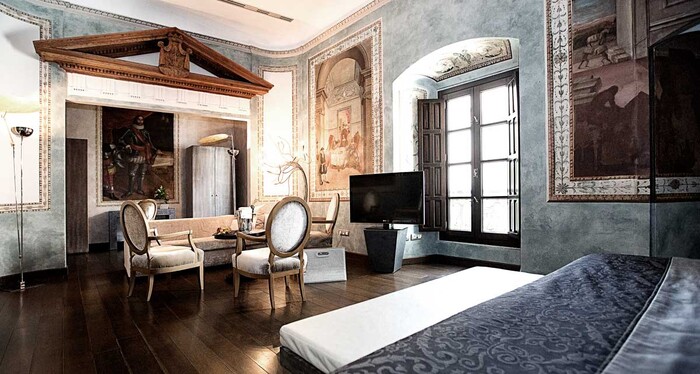 Eurostars Patios de Córdoba
The elegant Eurostars Patios de Córdoba hotel is located in the city of the integration of different cultures, Cordoba, in the heart of the Jewish quarter.
The whole district is full of history, and the hotel is close to everything you need, the Mosque-Cathedral, the Alcazar and the Museum of Fine Arts.
Without going very far, underneath the hotel there are still archaeological remains, such as Roman tombs, a well, hydraulic fountains, an Almohad wall and even a wall of the Caliphate.
This beautiful hotel has 65 rooms and its decoration has been inspired by several well-known characters from the history of Cordoba, such as: Seneca, Góngora, Abd al-Rahmán III, Julio Romero de Torres, etc.
All the rooms are modern and very comfortable with an elegant design and classic decoration, fully equipped with the latest technologies and comforts, in addition, the hotel has a bar where you can relax and have a coffee, tea or a drink.
Undoubtedly, one of the luxury hotels in Cordoba that is worth a visit.
NH Collection Amistad Cordoba
The NH Collection Amistad Cordoba Hotel was built on the site of two 18th century mansions, it has an amazing Mudejar courtyard, and a spectacular facade. If you want to stay in a piece of history of the city, this is the right place.
This hotel is located in the historic centre of Cordoba. It is situated in front of the Plaza Maimonides, and very close to the Mosque and the Palacio de Congresos, the main shopping streets are also nearby. It is a very central hotel, ideal for tourists and for business meetings, thanks to its sophisticated rooms for hundreds of guests, making the hotel a reference point for the organisation of events such as weddings or business lunches.
There is also an area for you to relax in the hotel, a cocktail bar where you can enjoy delicious drinks, or a quiet library. There is also an outdoor swimming pool for sunbathing, and a modern and well-equipped gymnasium.
In its cafeteria you can try the best dishes of traditional Andalusian cuisine, while enjoying some fresh air in the hotel's courtyards.
Although the setting is old, it has been completely refurbished, and the rooms are modern and has all the necessary comforts.

Las Casas de la Judería de Córdoba
Hotel Las Casas de la Juderia is one of the luxury hotels in Cordoba, situated in a privileged enclave in the Jewish Quarter of Cordoba, just in front of the Alcázar de los Reyes Cristianos, the Royal Stables, the Caliph Baths of the Campo Santo de los Martires and the Synagogue, 200 metres from the Mosque Cathedral of Cordoba and the Congress Palace of Cordoba.
The hotel is formed of several old houses, the main building is La Casa Palacio de la Pavas. It consists of several courtyards in Mudejar and Renaissance style, a garden with a swimming pool and large terraces with views of the Mosque, some of them for private use for the most exclusive rooms.
The hotel's refurbishment was carried out with the utmost respect for the history and architecture of the building, creating a uniquely charming hotel with all the facilities and services required by the traveller, in a setting of great beauty, where you can enjoy peace and tranquillity.
In addition to the distinguished architecture of the hotel and the well-being provided by its rooms, lounges and patios, there is also the unique service that offers its staff a wide range of possibilities and Additional Services, to complete your stay and adapt it to your expectations.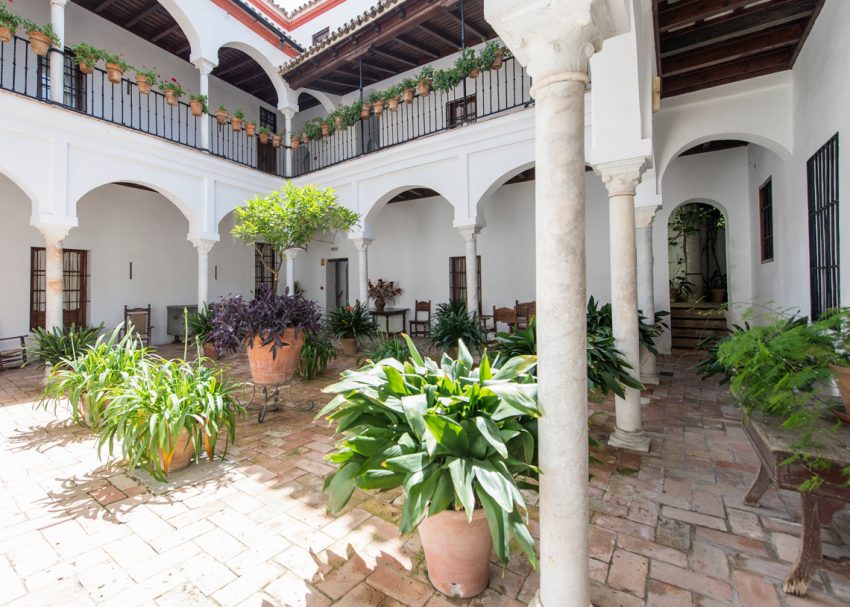 Hotel Madinat
It is located 5 minutes walk from Calleja del Pañuelo. Hotel Madinat Córdoba provides to their guests with different services, such as a massage, Turkish steam bath and relax zones. Situated in Cordoba's Centro Historico district, this hotel is also close to Cordoba Mosque-Cathedral.
Hotel Madinat has a 24-hour reception and offers a buffet breakfast. Numerous shops, restaurants, and bars can be found within a 5-minute walk.
The hotel is also nearby Corredera Square, Plaza del Potro Square, the Archaeological Museum and Cordoba's Museum of Fine Arts, just a short walk from the hotel.
Balcon de Cordoba
Balcón de Córdoba is only 20 metres from Cordoba Mosque, and just 300 metres from the Guadalquivir River and a 15-minute drive from Cordoba Airport.
The rooftop terrace offers panoramic views of the city. The Balcony's pretty rooms have tiled floors and are decorated in soft tones. All rooms have a sofa and a private bathroom with hairdryer.
Reception staff can book tickets for guided tours, live shows and other events. The hotel has a bar and 3 patios, one with an orange tree and in others you can find some Roman archaeological remains.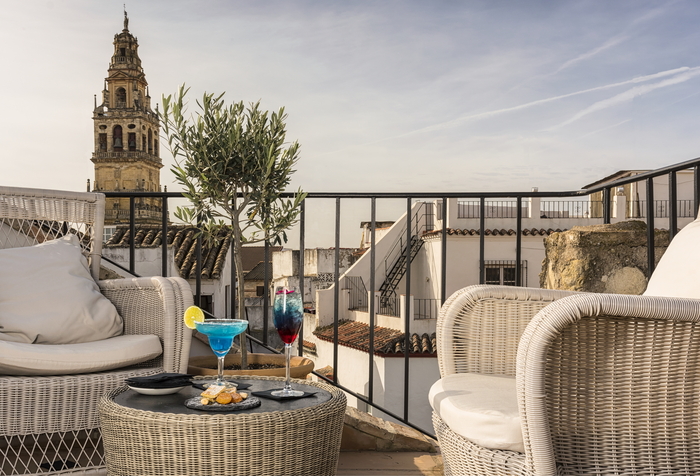 H10 Palacio Colomera
H10 Palacio Colomera has its own garden and terrace, is located in Plaza de las Tendillas Square in Cordoba, 1.1 km from Cordoba Mosque and 300 metres from Roman Temple. It is also 4 km from Cordoba Synagogue and 4.4 km from Zoco Cordoba Shopping Centre.
The hotel is close to Palacio de Viana, Palacio de la Merced and Calahorra Tower. There is free WiFi access for all guests. All rooms include a wardrobe, desk, flat-screen TV and private bathroom with free toiletries, and some rooms provide nice city views.
A delicious buffet breakfast is served every morning, and H10 Palacio Colomera has a small outdoor pool. 
Hotel Boutique Patio del Posadero
Located in the old part of Cordoba, Hotel Boutique Patio del Posadero features a seasonal outdoor pool, and also offers an outdoor pool, a patio and a sun terrace. This hotel is 800 metres from Viana Palace and 800 metres from Cordoba Mosque-Cathedral.
The property is located in Cordoba's historic central district, close to Corredera Square. The hotel is 1 km from the city centre, close to the Archaeological and Ethnological Museum.
Guests can visit Bodegas Campos and La Barberia Cordoba near the property. A courtyard and a library can also be found at Hotel Boutique Patio del Posadero.
And if you are looking to relax, the hotel offers a spa centre and wellness centre.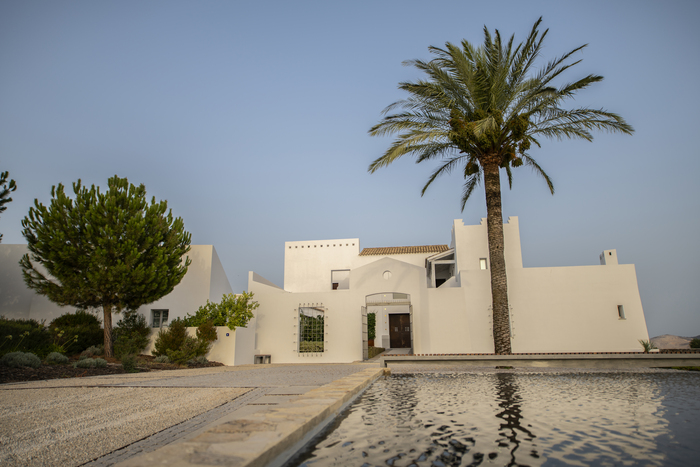 If you are looking to stay in one of the luxury hotels in Cordoba and also want to say "I do" in this spectacular province, you are in luck!
At Perfect Venue we carry out the most spectacular weddings, we don't leave out even the smallest detail! And if not, take a look at the wedding of Wincey and Jeremy, the bride and groom who got married amidst the history and nature of Córdoba.
We are waiting for you!
espacio de lujo CordobaExclusive venues CordobaHoteles Cordobahotels Andalusiahotels Cordobaluxury hotels Cordobaроскошные отели Андалусиироскошные отели Кордовы