Average North American airline on-time performance improved by more than 5 percentage points from July to 72.1 percent, the highest it has been since March 2022, according to Cirium's monthly report.
The improvement in the average score could have been affected by the omission of Allegiant Air and WestJet. Cirium for North America reviewed carriers that are in the top 20 percent in terms of flight frequency, total seats and available seat kilometers, and Allegiant and WestJet barely missed that threshold for flight volume and seat volume, respectively.
[Report continues below chart.]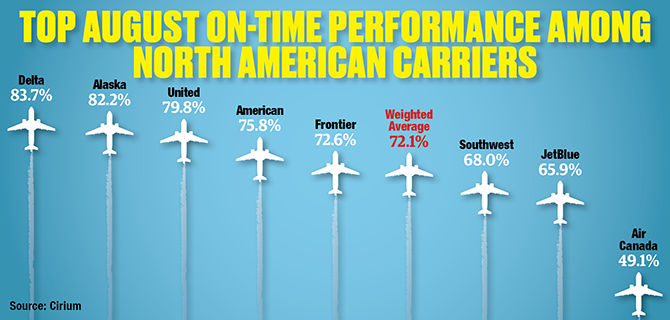 Delta Air Lines (83.7 percent) resumed the top spot after falling behind Alaska Airlines (82.2 percent) last month. The top four listed carriers, which also included United Airlines (79.8 percent) and American Airlines (75.8 percent), all improved on their July scores. Air Canada, which had been struggling the past few months, had the steepest turnaround, with a 14.3 percentage point increase to 49.1 percent, though it still was at the bottom of the list.
Globally, the three largest U.S. carriers, Delta, United and American, in that order, made the list of most on-time airlines, at sixth, eighth and tenth. 
The report also showed year-over-year growth of 25.2 percent in the number of flights completed.
A flight is considered on time if the aircraft arrives at the gate within 15 minutes of the scheduled arrival time.