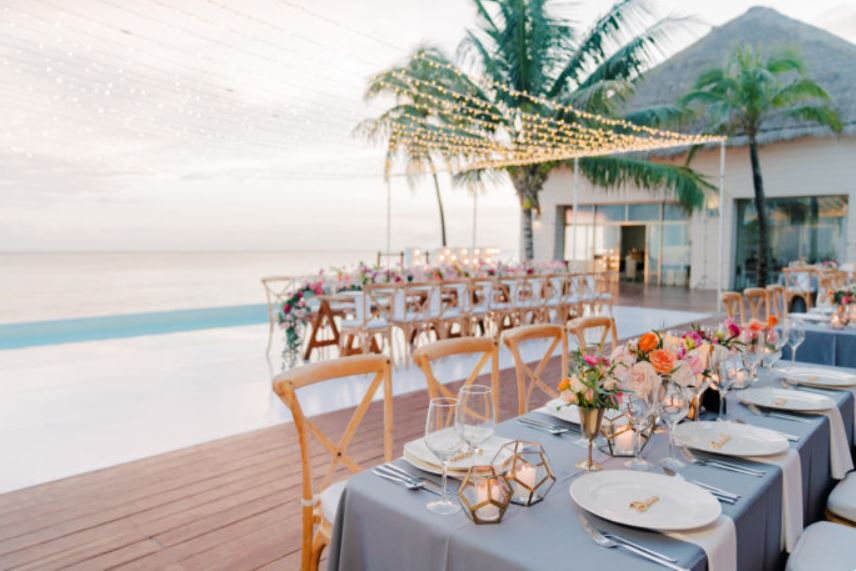 Your destination wedding planning has been going really well. You've picked a location, have communicated with the travel agent, and are just starting to look at ideas for decor, style, and color.
And then the resort sends you their list of add-on charges for all the decorations that don't come with your wedding package.
$65.00 for one centerpiece?! $85.00 for each bridesmaid's bouquet?! You pick a few things you think you want but the charges are adding up fast and you're already on a tight budget. And then you ask yourself, "Should I just bring my own decor? Am I even allowed to?"
How much space will you need? Will the resort still charge you for having them set up the decor you brought? Here are a few things to consider regarding decor for your wedding.
Powered by RedCircle
The Destination Is the Decor
The resort and venue are beautiful on their own. You and your guests may be on a beach or have a beautiful backdrop to watch the sunset. Do you think anyone will notice if there weren't table centerpieces or flower arrangements? 
Because your wedding will most likely be outside, everyone will already be surrounded by so much natural beauty. The decor may not be as important as you think. And a little can go a long way just by adding a few things (more on that below.)
Furthermore, think about previous weddings you've attended – do you remember what their centerpieces looked like or how much decor they had? If it was before you were engaged and not even thinking about planning your own wedding, then the answer is most likely no.
Less Is Usually More
Because you're already at a beautiful location you don't want to overdo it with unnecessary decorations. Simple, minimalist decor is trending these days and it's something that's never really gone away. Besides saving money, having less decor for your destination wedding may be more appealing to the eye (and wallet) than you think.
Items You May Want to Bring With You
If you decide to bring a few things to set on tables or make it more personal, the following are usually the most common:
Pictures of you and your fiancé
Pictures of late relatives
Guest book
Cake topper
They're small, easily packable, and add nice touches to your already stunning wedding. These can be placed on the tables that your guests are sitting at, or at a big table placed somewhere in your reception/dinner area. The small touches can add a lot to your wedding day. They're personal, memorable, and can take the place of expensive decor the resort would charge.
Use Your Bridesmaid's Flowers as Centerpieces
One way to decorate the tables a little bit is to just use
the flowers your bridesmaids will have. Be careful – most resorts will charge
you for these bouquets and they can add up quickly. Consider making your own
(or hiring someone local) using fake flowers instead. This can be a great
option for the following reasons:
You can give them their bouquet at your
bachelorette party or any time before you leave for the wedding and they can
bring it down themselves
Saves you room when packing, which will be much
needed
Saves you money because they'll typically be
much cheaper than the resort's options
Adding a pop of color to the tables can make all the difference, and then your bridesmaids don't have to worry about carrying around their flowers after the ceremony. When debating if you should bring your own decor for your destination wedding this option can save you space, money, and worry.
Here are a couple beautiful Etsy shops that offer Bridesmaids bouquets: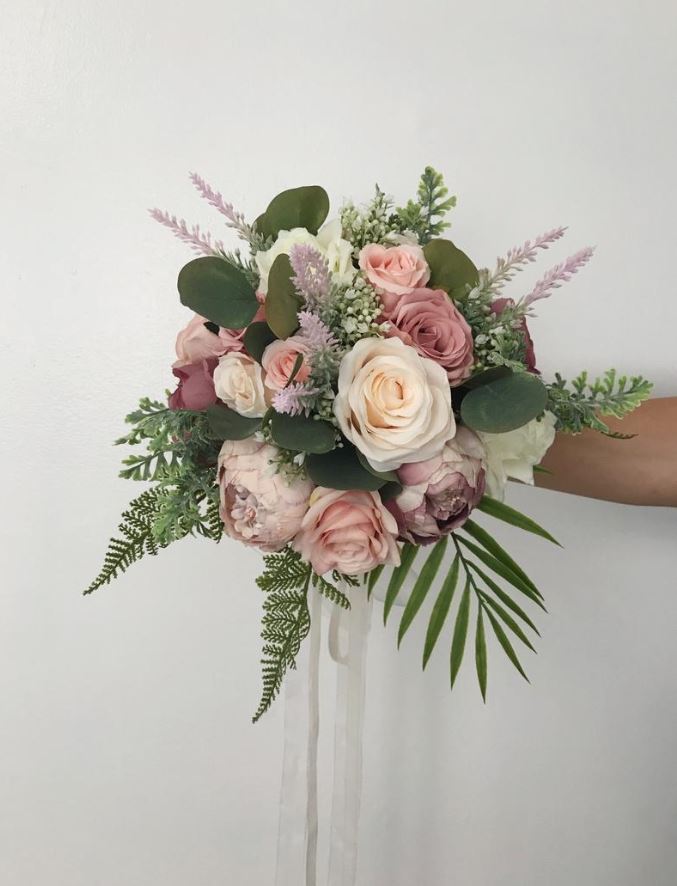 Compare Prices From the Resort vs. Bringing Yourself
If you are considering bringing your own decor or centerpieces make sure you compare how much it will cost. An extra checked bag to fit all of your items will most likely be cheaper than the resort's fees for the decor.
One major thing to look out for is to make sure the resort doesn't charge you an outside vendor fee for setting up the decor you brought for you because they can cancel out the money you're trying to save by bringing yourself. If they do, ask if your bridesmaids can set them up instead. This can be done quickly the morning of your wedding or while you and your husband are getting your pictures taken after the ceremony.
On a Tight Budget? Consider Just Three Things
If you decide that you should bring some of your own decor to your destination wedding because you don't want to pay the add-on costs and envision your wedding a specific way – consider bringing just 3 things below:
Table runners
Colored napkins
Bridesmaid's bouquets
The table runners and colored napkins alone will brighten up
the table. And as stated earlier, the bridesmaid's bouquets will save you space
if you have them bring the flowers themselves. These are also items that won't
take up a lot of room when packing and can fit in your luggage bags very
easily.
Ship Decor Beforehand – With Caution
A lot of brides want to know if they can just ship everything to the resort beforehand. A lot of people don't recommend this because the boxes can get lost along the way or get stuck in customs. In my opinion, things get shipped internationally every single day, and most of those items get there just fine. Above all, just make sure you allow plenty of time for your items to get there. Also make sure to check with your resort to see what they suggest. Some resorts don't allow for you to ship your own boxes so they may have alternative options for you instead.
Has this post been helpful? I'd love to hear from you! Comment below or contact me here for any questions/insight!