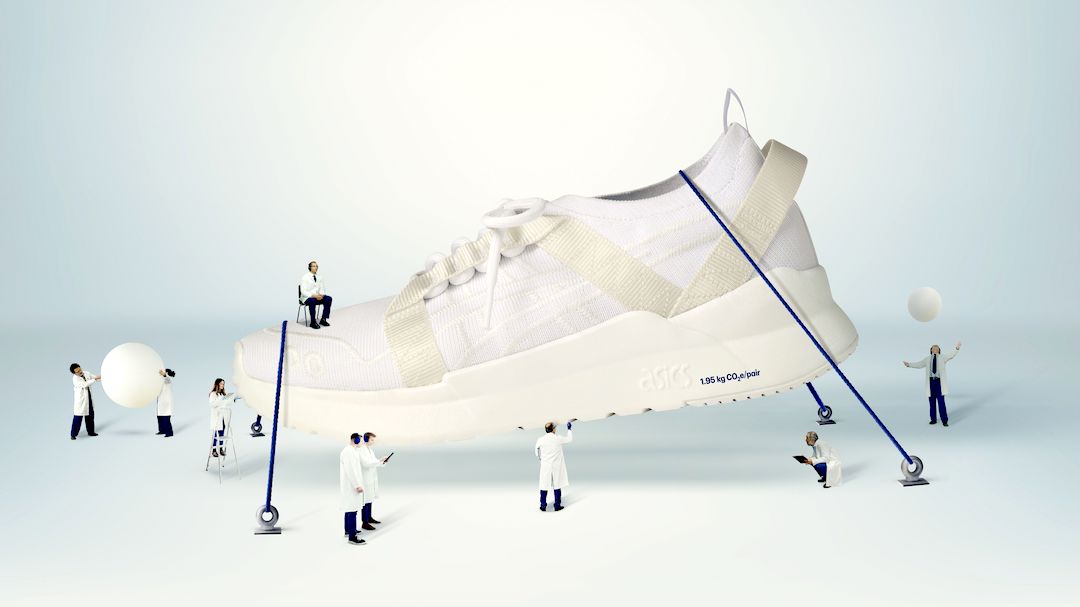 The race to develop the world's most sustainable pair of sneakers is on. Last May, Adidas teamed up with fellow footwear brand Allbirds to create the then-lowest carbon footprint sneaker, emitting just 2.94 kg (6.5 lbs) of emissions per pair. 
Now, sportswear competitor Asics has taken over the title of the world's most eco-friendly sneaker, with its latest creation—the GEL-LYTE III CM 1.95—only releasing 1.95 kg (4.3 lbs) of greenhouse gases across its life cycle. 
According to the firm, the footwear was a result of over a decade of research and development in partnership with the Massachusetts Institute of Technology (MIT), including coming up with a more accurate system to measure the environmental impact of a product.
A key component of the GEL-LYTE III CM 1.95 is the brand-new carbon negative foam adorning the shoe's midsole and sockliner.
Comprising a mix of bio-based polymers derived partly from sugarcane, the material allows the sneaker to maintain its level of comfort and quality in a sustainable way. 
Keeping in line with its eco-friendly status, the footwear's upper and sockliner mesh are created from recycled polyester, with a new structure utilizing tape that ensures less material waste. 
Plus, the company revealed it only used 100% renewable energy throughout the entire manufacturing process, resulting in a "ground-breaking" sneaker that will serve as a milestone as the firm moves towards achieving net-zero emissions by 2050. 
"At Asics, we have long been committed to exploring and testing more sustainable methods through our value chain to reduce our impact on the planet," remarked Minako Yoshikawa, Senior General Manager of the Asics Sustainability Division. 
"While the GEL-LYTE III CM 1.95 is a hugely significant milestone on this journey, this is only the beginning. Our ambition now is to continue applying the learnings and build on the blueprint of this shoe in a way that can be rolled out on an even bigger scale in the future," he added. 
The GEL-LYTE III CM 1.95 sneaker will be available for sale to the public late next year.